---
Challenge
In 2011, the company wanted to implement growth strategies to attract new customers and expand product offerings to better serve its current customers. The organization believed that inefficiencies in their manufacturing processes were leading to bottlenecks and increased production costs. Their goal was to address these issues, grow their business, reduce production costs and invest the savings. Previous attempts to improve operations and implement employee development initiatives were hindered because of employee language barriers.
Solution
In April 2011, CMTC and American Graphic Board initiated a Single Minute Exchange of Die (SMED) Program to address the cost reduction issues they were experiencing. CMTC identified specific areas to improve efficiencies. For example, when switching out pieces of equipment during the production process, there were opportunities to reduce production time and increase productivity. A goal was created to streamline the process of exchanging equipment pieces when producing different products.
CMTC used a consultant who was fluent in Spanish. All of their employees were included in the program, giving them an opportunity to be a part of the solution. Increased productivity and a strong sense of teamwork were the outcomes. As a result of these process improvements, the company was able to produce new products, accommodate more demand and obtain new customers.
"CMTC's guidance resulted in cost savings which allowed us to further invest in innovation, employee development and equipment resources. These improvements allowed our organization to become more productive and develop new products, increasing our sales. We were very fortunate to work with a consultant who was both well-versed in improvement techniques and bilingual to communicate with our many Spanish-speaking employees."

--Mike Carmody
Chief Financial Officer

Download This Case Study
$3.2M New and Retained Sales
(Dollars in Millions)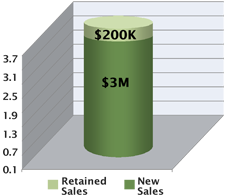 19 Jobs Created and Retained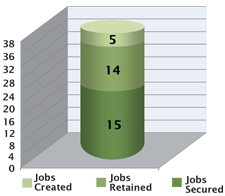 Financial & Productivity Results
$3.2M in new and retained sales
$200,000 in new sales
5 new jobs created
$500,000 in costs saved
$50,000 in plant and equipment investments
$5,000 in IT investments
$20,000 in workforce development investments
$10,000 invested in other areas