2016 Impact for California Manufacturers
The CMTC® mission is to ensure that manufacturers flourish by identifying areas of improvement in capability, process and systems to create financial impact. California manufacturers are important contributors to innovation, investment and productivity in the U.S. Our success stories (available on the left) outline specific project impacts by industry sector and service.
CMTC is part of the U.S. Department of Commerce Hollings Manufacturing Extension Partnership (MEP) Program that ensures our high customer satisfaction ratings. All customers are surveyed by an independent third-party to verify that we have delivered impact to our clients.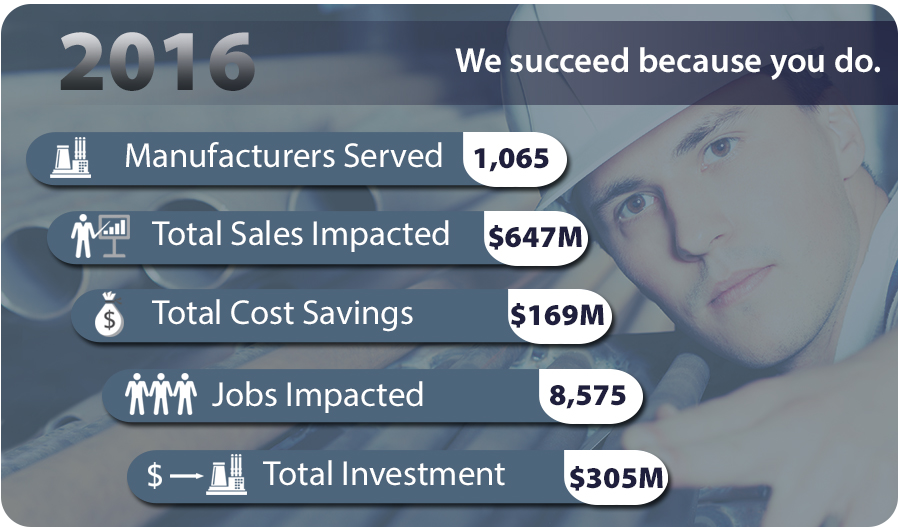 CMTC 2016 Impact Report
As a part of our continuing commitment to California manufacturers, CMTC provides other resources to assist the manufacturing community.
---
2013 Next Generation Manufacturing Study (Summary)
In the two years since the last Next Generation Manufacturing Study (NGM) Study, U.S. Manufacturers have seen major gains in revenue and profits. Yet the NGM Study finds that most manufacturers - as successful as they aretoday - aren't investing in the strategies that will carry their firms into tomorrow. Find out what these strategies are by downloading the NGM summary.
Download here:
Summary of the 2013 Next Generation Manufacturing Study
Resources for Manufacturers
For a full list of our manufacturing resource documents, coming events and future event topics, please click through to our CMTC Resources pages where you can download a variety of documents, attend events and propose topics for future events.