Kadan Consultants Inc. is a Minority Women-Owned Small Business of 20 years in the greater Southern California area, that specializes in Precision Manufacturing and Metrology. KCI primarily services the Aerospace industry, but over the years has expanded into every industry one can imagine: Mills, Automotive, Entertainment, Petroleum, Power, Testing, Rails, Marine, Hyperloops, Lumber, Transportation and even Fine Arts.
Products and Services
Kadan Consultants was founded as a Metrology Service Group that has since grown to also offer Precision Machine and Fabrication Shop Services in Huntington Beach. Our expertise lies in Tooling (Assembly, Repairs, Modification, Certification), Prototype Assembly Support, Large Scale Alignments & Installations, Reverse Engineering & Scanning, and Third Party Source Inspections.
Manufacturing Processes
CNC Machining Centers 3, 4 & 5 Axis: 100 x 30 x 30 Capacity
CNC Lathes 12 Diameter x 36 Length 3 Thru Spindle HL
Water Jetting w/5-Axis Taper Control Head: 12 x 6 Capacity
Welding
Precision Assembly
Program Management / Quality Control / Consulting Services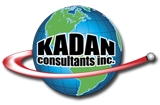 Contact This Manufacturer
Company Name: Kadan Consultants Inc.
Category: Machine Shops
Location: Huntington Beach
Contact Person: Kody Sjoberg
Phone: (714) 890-1165
Email: @
Website: http://kadaninc.net