Anaheim Automation ranks among the leading manufacturers of motion control products, a position enhanced by its excellent reputation for quality products at competitive prices.
Buyers appreciate the simplicity of our "one-stop shop," while engineers are pleased with Anaheim Automation's dedicated involvement in their specific system design.
Products and Services
We manufacture motion control products, such as Drives and Controllers for Servo Motors, Brushless DC Motors, DC Brush Motors, AC Motors, as well as HMIs and PLCs, Gearmotors, Gearboxes, Couplings, Brakes, Tables, Ball Screws, Lead Screws, and Linear Guides. We also manufacture assemblies with integrated motor/drive/controller combinations, or motors with encoders, brakes, gearboxes. Custom motors shafts are available.
We offer a wide variety of standard motion control products that can be purchased in several different levels, such as printed circuit boards, modular, or as Integrated Motor/Driver/Controller units and Driver/Controller Packages. We also provide value-added services (cable assemblies, adding brakes, encoders to motors) and custom designs, to match a customer's exact requirements. OEM customers tend to prefer the creativity, flexibility and cost-savings of the sub-assembly design approach, while R&D and user customers enjoy the complete packages ‰ŰÓ taking the guesswork out of the selection process, and providing quick and easy start-up.
Manufacturing Processes
Anaheim Automation's diversified customers are companies operating or designing automated machinery or processes that involve: food, cosmetics or medical packaging; labeling or tamper-evident requirements; cut-to-length applications; assembly; conveyor; material handling; robotics; special filming and projection effects; medical diagnostics; inspection and security devices; pump flow control; metal fabrication (CNC machinery); XY and rotary tables; and equipment upgrades.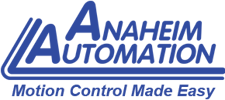 Contact This Manufacturer
Company Name: Anaheim Automation, Inc.
Category: Relay and Industrial Control
Location: Anaheim
Contact Person: Joanne Dargan
Phone: (714) 992-6990
Email: @
Website: https://www.anaheimautomation.com/