Architectural Stoneworks provides cut stone to the trade. In addition to quality stone counter top and bath fabrication, ASW offers custom cutting, carving and shaping services in dimensional stone. We will produce to your specifications everything from ballustrade and stairway assemblies to cornice and curbing, all in natural domestic and imported limestones, sandstones and marbles. We have the capability to produce the finished product accurately, on time and at competitive prices.
Products and Services
ASW has over 25 years of experience, specializing in custom architectural elements to the stone trade.
Manufacturing Processes
We use hand craftsmanship along with fabrication machinery.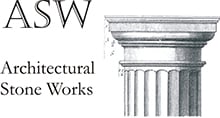 Contact This Manufacturer
Company Name: Architectural Stoneworks
Category: Nonmetallic Mineral Products
Location: Ventura
Contact Person: Michael Crookston
Phone: (805) 653-8007
Email: @
Are you a CA Manufacturer?
Join our Made in CA program and get your company featured for free!