Orange County Broaching Inc. is a specialty machine shop manufacturing gears and all types of broaching services to all types of industries, including aerospace/wind and power/medical/dental /automotive and industrial. Orance County Broaching was founded in 1981 by Tom Johnson, it is still a family owned business, and employs over 200 years of combined experience.
Our Mission
To Manufacture Parts on Time & Right, The First Time"
Products and Services
We offer broaching services large and small. Orange County Broaching is a full service machining and broaching shop.
Services:
Blind Hole & Spiral Broaching
Horizontal & Vertical Broaching
Accelerated Broaching
Straddle & Pot Broaching
Deep Drilling
CNC Milling
Turning
Grinding
Gear Cutting
Slotting & Keyseating
Vertical Shaping
Machines:
18 Broaching Machines
20 Gear Machines
- Cutting up to 50" Diameter
6 CNC Mills
- Up to 50" Tapers
- 400mm Horizontal Mills
- 4th Axis Mills
8 Lathes Up to 12" Chucks
Hones
Grinders
12" Automatic Saw
Speciality Broaching:
Broach Tooling
Custom Broaches
Stock Broaches
Splines
Hexes
Squares
All Exotics Machines
Inconel Specialist
Any and All Stainless Steel
Plastic to High Grade Alloys
Any Aluminums
Manufacturing Processes
All types of CNC Machining and assembly.
We are compliant with the following quality systems:
"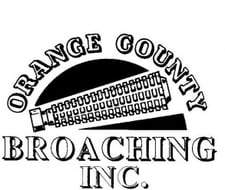 Contact This Manufacturer
Company Name: Orange County Broaching Inc.
Category: Fabricated Metal Products
Location: Placentia, CA
Contact Person: Tom Johnson
Phone: 714-630-2622
Email: @
Website: http://www.ocbroaching.com