Ruff Ruff and Meow outfits your furry little friends in only the hippest of designer dog clothes from small dogs to big dogs. We have been in business since 2003 and live by the mantra, "Social Consciousness, Quality & Originality." Discover why our customers around the world describe our products as "Excellent Quality from start to finish!" All of our tees & tanks are made in CA & have a low carbon footprint, as nothing is manufactured more than 40 miles from our facility! All of our doggie clothing is made in CA. Each shirt is garment dyed which not only makes colors pop but also inhibits colors from running or fading when washed. Each garment is pre-washed to prevent shrinkage. In addition, no embellishment is ever glued on! Each embellishment has a backing to them. Our shirts are made to last and will withstand multiple washings and wearings. Our goal and commitment is always to quality and to welcome our customers back time and time again as repeat customers.
Products & Services
Top Products: Dog Tanks, Bandanas & Sweatshirts We also offer Dog collars & baby clothes! As well as Doggie Steps (Also 100% CA made)
Manufacturing Processes
We silk screen on premises.

Contact This Manufacturer
Company Name: Ruff Ruff & Meow
Category: Miscellaneous
Location: Costa Mesa, CA
Contact Person: Caroline Leedom
Phone: (949) 548-7833
Email: @
Website: http://www.ruffruffandmeow.com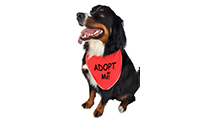 Adopt Me" Doggie Bandana
"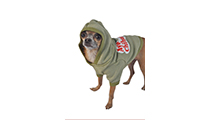 Aye Chihuahua Hoodie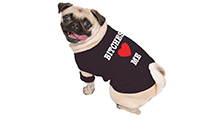 Bitches Love Me" Doggie Tank Top
"
Are you a CA Manufacturer?
Join our Made in CA program and get your company featured for free!