We are a contract manufacturer for rubber parts.
Established in 1967.
Customers stick with us because we are flexible. We have the capabilities and experience and we're easy to work with.
Products and Services
As a contract manufacturer we have made thousands of different parts; seals, grommets, gaskets, bumpers, stops, cushions, pads, boots, tubes, plugs, caps, suction cups add infinitum.
ISO & AS 9100 certified quality system. ITAR registered. Approved supplier to Boeing, Parker. B/E Aerospace
Manufacturing Processes
Molded, Extruded & Stamped. Compression and transfer molding. We work with most types of rubber. Silicone, EPDM, Neoprene, Nitrile, Viton, SBR, Spec materials and commercial.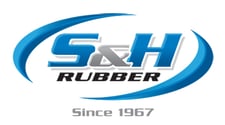 Contact This Manufacturer
Company Name: S&H Rubber
Category: Rubber Product
Location: Fullerton
Contact Person: Mike Haney
Phone: (714) 525-0277
Email: @
Website: www.shrubber.com