Since 1958, Tent City Canvas House has been meeting California's custom canvas needs. Camp grounds all over the country trust our heavy duty canvas camping tents. Architects and builders rely on Tent City for high quality customized Commercial awnings and canvas enclosures. Homeowners look to us for canvas goods, from awnings and upholstered cushions to canvas market umbrellas.
Farmers around the Central Valley count on Tent City for a full range of canvas products from tarps, harvest sheets, custom equipment covers and irrigation dam materials to post-harvest needs in cold storage. If it's canvas, we can help.

Products and Services
Benefits of Canvas Awnings:
It's getting warm in the Central Valley and it's important that we keep ourselves and our loved ones protected from heat. One of the many ways to protect you from the scorching heat of Central Valley in California is by working or playing in the shade. Tent City Canvas House provides many shade options depending on your need. From knitted 70% black shade tarp to 100% acrylic woven Sunbrella fabric, we have it all in different shapes and sizes.
We specialize in window and patio coverings and have many different styles of canvas awnings to suit your shading needs. Here are some of the benefits of using canvas awnings for your doors, windows and patios:
Reduced energy cost: Scientific results have proved that canvas awnings on a window or a door directly facing the sun can reduce the temperature of a room by 30-33%. Studies have also proved that the most efficient way to reduce energy consumption is to shade your windows from outside i.e. before the sun heats up the glass.
Manufacturing Processes
We provide a 10 year manufacturer warranty: Sunbrella awning fabrics carry 10 years manufacturer's warranty. Tent City Canvas House will replace the awning fabric free of cost if the awning fabric fails, rips or fades due to material or workmanship within 10 years of installation. Typically, Tent City Canvas House's customers don't have to replace fawning fabric for 15-25 years depending on the location of the awning. The awning fabric is easy to clean, fast drying and resistant to mildew. Sunbrella fabric is fade resistant and is bleach cleanable.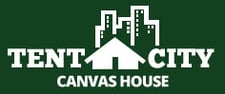 Contact This Manufacturer
Company Name: Tent City Canvas House
Category: Textiles
Location: Fresno, CA
Contact Person: Raj Sharma
Phone: 888-564-8368
Email: @
Website: http://www.tentcitycanvashouse.com