What is a Peer Council?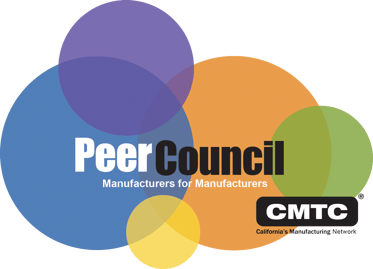 If you're a C-level manufacturing executive seeking to collaborate with like-minded, high-caliber individuals to discuss strategies and tactics available to overcome many of the hard-pressing issues facing California's manufacturers today, Peer Council is for you. Peer Council groups consist of 8-12 representatives from non-competing manufacturers. Each member represents their particular industry (e.g. food industry, aerospace, plastics, fabricated metals, etc.) meaning, if another company from the same industry is already a member of a Peer Council, you will not be able to join that particular council.
Monthly Peer Council meetings are currently underway at pre-selected locations in:
The Inland Empire - Contact Client Advisor

Cynthia Amador Diaz to learn about joining this location
San Fernando Valley - Contact Client Advisor Doug Waterman to learn about joining this location
Each meeting is professionally moderated and is followed by a light meal. We're currently seeking to develop Peer Councils in:
Orange County
San Diego
Los Angeles
Ventura
Fresno
Palm Springs
Corona
Victorville
If you are a manufacturer in any of these areas, including those already established, please complete the form below.
What Are my Commitments?
By joining a Peer Council group you will have the ability to connect with a tight-knit group of manufacturers to share success stories, propose challenges for group review, and gain insights into solutions and strategies used by other manufacturing leaders. Because collaboration is such a vital element of the Council's success, the following commitments are expected of each member:
Attend monthly meetings
Contribution of knowledge, experience and skills to the discussion
Review and discuss qualifications of potential new members
Adoption of a set of operating principles
How Do I Join?
To take advantage of this exciting opportunity, please complete the form below. Following your form submission, your qualification form will be sent to the facilitator organizing Peer Councils within your geographic region for review. The facilitator may contact you for clarification and further information. To ensure value to its members, a quarterly membership fee is charged; however, the exact fee may differ depending on the venue, food costs, and the facilitator.
---
The Power of Convening: Peer Council During the Pandemic