A T Industrial Products has been making quality, reliable Wet Dust Collectors since 1997.
Our Wet Dust Collectors are only constructed from 304 Stainless Steel, with 100% welded seams, a heavy-duty powder coated exterior, precision balanced, stainless steel impeller. Our Wet Dust Collectors have a unique hood design with sound suppression panels, and automatic water level control (with water connection) sludge rake.


Proudly made in the USA!
Products and Services
APPLICATIONS FOR OUR WET DUST COLLECTORS:
Machining
Sawing
Grinding
Polishing
Buffing
Sanding
Abrasive Blasting
STANDARD FEATURES:
Construction: 304 stainless steel
Coating: Powder coated exterior surfaces; ANSI grey
Maintenance Door: Front access door with explosion relief vent
Operational Control: Manual push button starter
Water Level Control: Modular tank with float level valve
Electrical: 230V-460V/60Hz/3ph; 575V available
Motor: TEFC
Impeller: Standard, precision balanced, direct coupled to the motor for maximum CFM with minimum vibration (also stainless steel)
Impeller: Precision balanced stainless steel
Blower Assembly: Plug
Sound Suppression: Hinged/latched blower hood with sound suppression panels
Drain: 1.5‰Ű NPT
Cleaning Tool: Stainless steel sludge rake; provided for the removal of sludge from the sump.
Manufacturing Processes
Our Wet Dust Collectors are only constructed from 304 Stainless Steel. Every machine is tested and run for a minimum of two hours before leaving our shop to ensure correct CFM production and to ensure that water doesn't migrate up and out of the machine. Our Wet Dust Collectors don't weep, seep or leak. Each unit is sealed with a special sealant to further ensure no leaking.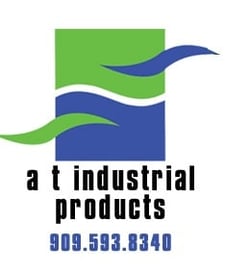 Contact This Manufacturer
Company Name: A T Industrial Products
Category: Machinery
Location: Pomona
Contact Person: Denise Duncan
Phone: 909-593-8340
Email: @
Website: http://www.atindustrialproducts.com
Are you a CA Manufacturer?
Join our Made in CA program and get your company featured for free!