We've posted select manufacturing video clips designed to help California's manufacturers succeed in today's challenging economic environment.
---
Rethinking Manufacturing
(video 8:49) 7-2-2019 by NIST
American manufacturing, once seen as the world's icon of industrialization and then as a symbol of decline, is once again changing. Rethinking Manufacturing is the story of two young individuals who are on the cutting edge of that revolution. With support from America Makes (the first Manufacturing USA institute), Youngstown State University and the Youngstown Business Incubator, these entrepreneurs and their peers are rethinking manufacturing, rethinking career choices, and rethinking the very idea of how we build and revitalize communities.
---
Inaugural Women in Manufacturing Event held in the City of Fontana, CA
Made in CA 2018 Open House at Fullerton College Machine Technology Program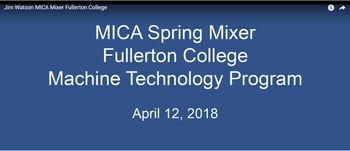 Our Made in CA Spring Mixer at Fullerton College on April 12th was a great success! We had nearly 40 attendees come to the Fullerton College Machine Technology Program to mix, mingle and tour the impressive facility. We'd like to thank CA State Assemblymember Sharon Quirk-Silva; Fullerton College President Greg Schulz, Ed.D.; CMTC President & CEO James Watson; and CMTC's Advanced Robotics & Automation Practice Lead Raminder Sandhu, for their inspiring speeches to the manufacturers in attendance. We'd also like to thank Fullerton College Division Dean, Technology and Engineering, Ken Starkman; and Department Coordinator/Machine Technology Instructor Dan O'Brien, for speaking with our attendees about the program.
CMTC Client Brenner-Fiedler Featured on Spotlight Riverside
Riverside Business Spotlight recently featured CMTC client Brenner-Fiedler for their work in helping to recruit STEM students to jobs in manufacturing. Since 1948, Brenner-Fiedler has been creating and retrofitting devices for medical, industrial, food packaging and manufacturing industries. Using a team of engineers and fabricators, they create or modify existing equipment to make the customer's device perform better, faster and safer.
Manufacturing Day 2015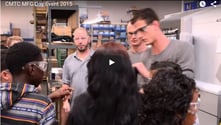 CMTC is proud to have participated in Manufacturing Day 2015 and to have produced this video highlighting the importance of educating and inspiring Millennials to pursue careers in manufacturing. We would like to thank Moseys' Production Machinists, Urban Workshop and Purple Platypus for allowing us to film their Manufacturing Day tours, and to everyone who helped with the creation of this video.
Made in CA 2015 Open House at Apffels Fine Coffees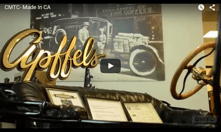 CMTC's Made in California Program invited Southern California manufacturers to attend an open house at Apffels Fine Coffees manufacturing facility in Santa Fe Springs, CA on September 17, 2015. A total of 24 attendees representing 16 companies attended the event. The Made in California Program recognizes manufacturers who produce products within the State.
Heroes of American Manufacturing: Louroe Electronics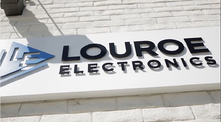 This is the inspiring story of a small electronics manufacturer making it in America. Through its close work with CMTC (the Southern California-based MEP Center) and participation in the Department of Commerce's export assistance program, ExporTech, Louroe saw a 1200% increase in sales to Mexico and was awarded the Export Achievement Award by the Los Angeles Chamber of Commerce.
CMTC Manufacturing Services Video
This overview video is an overview of the services offered by CMTC and some statistics on how CMTC has helped clients. CMTC is a non-profit consulting organization solely dedicated to assisting manufacturers in So. California.
MFG Day 2013 Overview
Manufacturing Day 2013 was a huge success with thousands of students visiting over 830 manufacturers around the country and learning how important this industry is to our lives. Manufacturers around the United States opened their doors and a movement lived on in 2013. Be a part of Manufacturing Day! www.mfgday.com
Made in CA 2013 Open House at Rico D'Addario
CMTC's Made in California Program invited Southern California manufactures to attend an open house at Rico D'Addario's manufacturing facility in Sun Valley, CA on Oct. 24th, 2013. A total of 33 attendees representing 16 companies attended the event. The Made in California Program recognizes manufacturers who produce products within the State.
Increasing Sales Using Exporting
Small manufacturer Louroe Electronics experiences increased sales through exporting and enhances export efforts. After completing the CMTC ExporTech Program, Louroe increased their export efforts from 15% to 25%.
Innovation Strategies to Increase Your Business
Louroe Electronics works with CMTC to develop Innovation strategies to introduce new products to the marketplace.
Manufacturing Growth Solutions
CMTC offers affordable consulting services and solutions to help your business grow and increase profitability.
The Benefits of Exporting
Manufacturers in Southern California are sitting on a gold mine – their own products. Learn how your company can benefit from CMTC's Exporting Program.
---
CMTC Client Testimonials
---
Partnership for Job Growth and Retention
Meet Quality Standards to Increase Competitiveness
Dicronite Vice President Steve Dively discusses the company's relationship with California Manufacturing Technology Consulting and the AS9100 Rev C certification Dicronite recently received with CMTC's help.
---
For more information, contact us for a complimentary consultation to review your needs and provide innovative solutions for your business.