Exporting in a Global Marketplace
Instead of loading your Made in the USA or Made in CA products on cargo ships bound for countries eager to buy high quality goods, too many manufacturers are leaving the rewards of global trade to competitors. If you are a manufacturer seeking to maximize your business growth and improve your bottom line, you might consider exporting. We know it can be an overwhelming task, but CMTC is here to assist in the following areas:
Determining whether exporting is RIGHT for your company

Getting started in exporting

Integrating the export process in your business operation

Managing the global logistics process

Assisting you with your export business growth

Identifying obstacle(s) to export sales growth
In 2015, Louroe Electronics received the President's "E" Award for their major contribution to U.S. Exports. Read More.
---
Exportable products include, but are not limited to...
Medical and Dental Equipment and Devices
Food, including Equipment and Packaging
Fashion, Apparel, Textiles and Accessories
Aerospace, Aircraft, Helicopter, Automotive, Environmental
Cosmetics, Supplements, Healthcare, Recreational Products, and more
---

CMTC'S ExporTech

™

Program


The only national program that helps individual companies develop an export plan!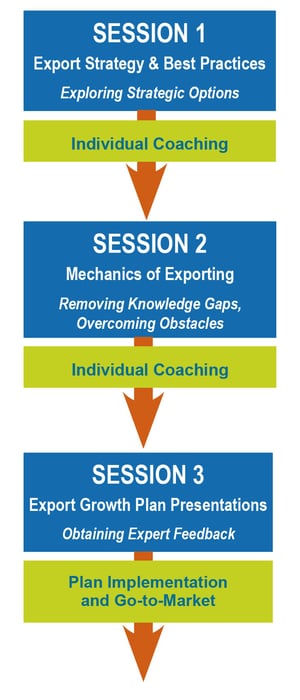 - Start exporting in as little as 3 months
"CMTC's exporting services enabled us to expand into new international markets and increase sales by more than $500,000. They helped us accelerate our exporting efforts, and we project continuous growth for years to come."
Diamond Wipes International, Chino, CA View Diamond Wipes Case Study
CMTC's ExporTech™ Scholarship Program:

The cost of the ExporTech™ Program is $5,000. By participating in the ExporTech™ Scholarship Program, your Company will attend the ExporTech Program for a fee of only $750 by agreeing to provide a scholarship for another non-competing company to attend an ExporTech Program in the future. The scholarship amount is $5,000 with the provision that you will provide $5,000 only if top-line export sales have increased by more than $100,000, one year after beginning implementation of your export plan.

---

Upcoming ExporTech Sessions:

ExporTech - Inland Empire (Corona)

3 Sessions: Tuesdays - March 5, April 2, May 7, 2019

Corona City Hall, Multi-Purpose Room

Corona, CA 92882

ExporTech - Los Angeles
Check back soon for details.

---

To find out more about our ExporTech program, CMTC's ExporTech Scholarship Program, or upcoming event dates and locations, please contact:

ELIZABETH GLYNN at 310-263-3052 or eglynn@cmtc.com



ExporTech™ Partners:




---

Other Exporting Events



---
Ongoing Virtual Global Fair
Textiles, Apparel, & Sporting Goods Virtual Fair (Sponsored by the U.S. Commercial Service)
Virtually promote your Made in the USA products and services and connect with foreign buyers.
Find out more at Export.gov. View flyer.

February 27, 2019

*CMTC is hosting a table at this event.
*CMTC is hosting a table at this event.
---
Important News
New E.U. Regulation: General Data Protection Regulation (GDPR)
The European Union has adopted new data privacy legislation which creates a higher level of protection for consumers and stronger rules for companies. The GDPR is applicable as of May 25, 2018 and applies to U.S. companies offering goods or services in the EU, processing personal data from Europe, monitoring behaviour within the EU. Severe penalties for noncompliance may result. To ensure your company complies, contact Isabelle Roccia at isabelle.roccia@trade.gov or visit the Commercial Service EU webpage at https://build.export.gov/europeanunion/index.asp.
Read Export.Gov article: https://www.export.gov/article?id=European-Union-Transferring-Personal-Data-From-the-EU-to-the-US
7 Red Flags Protecting against Fraud in Trade Finance
Fraudulent collection scams come in many different forms. One of the biggest claims ever experienced by the trade credit insurance industry was the result of internal fraud leading to bankruptcy. The financial collapse of OW Bunker in 2014 sent financial shock waves across both the shipping fuel and trade credit insurance industries.
Read Exim.Gov article: http://grow.exim.gov/blog/seven-red-flags-protecting-against-fraud-in-trade-finance
---
Additional Resources