Make Sure Your HR Services are Compliant
CMTC provides legally compliant HR solutions to meet your business needs, by offering talent management and development programs in addition to our Recruitment Services program.
---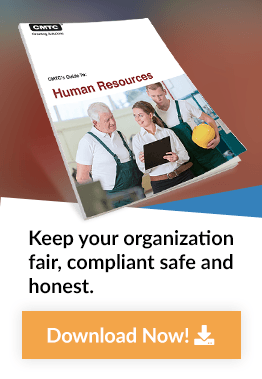 HR Health Check
CMTC will facilitate an HR Audit in your organization, beginning with an HR Audit Survey to help you prepare. We then conduct an on-site audit of policies/procedures and identify areas of exposure, which we use to propose recommendations that protect you and your employees.
Employee Handbook
CMTC will work with you to develop an Employee Handbook, customized with client details and State/Federal requirements. Using HR coaching during the development process, we will create an action plan for client roll-out, and provide handbook translations if needed.
Rewards and Recognition Programs
CMTC will provide you with reward and recognition Best Practices, and facilitate program sessions with your teams. No matter your budget, we will help your company improve program design and client roll-out.
Harassment Avoidance Training
CMTC will organize a Harassment Avoidance training session, on your site or ours, and facilitate interactive sessions per State/Federal law. We can conduct sessions for businesses with large or small employee bases, and provide Certificates of Completion for each participant.
Project-related HR Solutions
CMTC will assess your company's needs and provide individualized HR solutions on a consultancy basis. Please contact us for information on a specific analysis and assessment.
Recruitment Services
CMTC customizes candidate searches to meet your company's needs. Our method incorporates a defined approach that results in consistency, operational excellence and legal compliance. Each candidate participates in a rigorous vetting process, designed to ensure that they meet or exceed position requirements. CMTC maps candidate skill sets with positions and uses proven methodologies for best-in-class talent acquisition, placement, and high client satisfaction for each project.
For more information, contact us for a complimentary consultation to review your needs and provide innovative solutions for your business. Or click here to see our recruitment services.