Action Embroidery has been producing high quality embroidered patches in the USA since 1943. We proudly supply the US Army, Navy, Air Force, Marines and Coast Guard with all of their items. We also produce USA items foe many domestic companies and local Police, Fire and Municipal Governments.
Products and Services
Action designs and manufactures embroidered emblems. We also have the capability of doing direct embroidery onto garments, bags and other items. Our expert staff of design professionals uses state of the art equipment to deliver the best possible results.
Manufacturing Processes
Action has 10 high speed automatic Swiss Embroidery machines that are capable of producing up to 500 patches in a single run. We also have smaller multi head equipment for smaller runs and direct embroidery.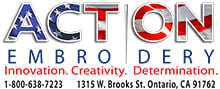 Contact This Manufacturer
Company Name: Action Embroidery Corp
Category: Textiles
Location: Ontario
Contact Person: Ira Newman
Phone: 909-983-1359
Email: @
Website: http://www.actionemb.com
Are you a CA Manufacturer?
Join our Made in CA program and get your company featured for free!