ACE is a Hi-Tech/Quick Turn Manufacturer of Hi-speed; Hybrid and High layer count Commercial and Military Certified Printed Circuit Boards. Specializing in Prototypes with Super Quick Deliveries. Established in 1985 with 65 employees.
Products and Services
ACE builds High Technology PCB's in as little as 24 hours or as long as 20 days. We offer a complete one stop solution to your most difficult problems with Design; Manufacture and Assembly of PCBs ACE is AS9100C, Mil-P-55110 and Mil-PRF-31032/ISO and ITAR Certified.
Manufacturing Processes
Fabrication and Assembly of PCB's.
"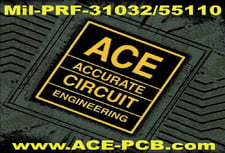 Contact This Manufacturer
Company Name: Accurate Circuit Engineering
Category: Printed Circuit Board Mfg
Location: Santa Ana
Contact Person: James Hofer
Phone: 714-546-2162
Email: @
Website: http://www.ace-pcb.com