Action Broaching, Inc. has over 4 decades of experience in the Gear Manufacturing industry. Our company has been recognized numerous times as a gold rated supplier in the aerospace & defense industry and, with the benefit of our 4 new CNC's, we have no competition.

Products and Services
We are AS9100 Rev.c compliant and will be certified by 2016. Previously, we have been recognized as Boeings gold vendor of the year and named a gold rated supplier.
Manufacturing Processes
Machining, Broaching, Milling, etc.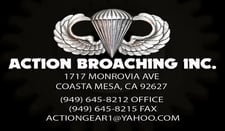 Contact This Manufacturer
Company Name: Action Broaching,Inc.
Category: Machine Shops
Location: Costa Mesa, CA
Contact Person: Margaret Mackley
Email: @