All-Star Precision has been helping clients by providing high quality, precision-machining services since July 2004. We started as a simple one-man shop, but since those early days, our facilities have grown to 23 employees, keeping up with the demands of short-run and production needs for all types of industrial and manufacturing projects.
Products and Services
Our Team takes pride in in providing our clients with professional service, and most of all quality parts. We strive to exceed your expectations.
Manufacturing Processes
All-Star's experienced and knowledgeable team provides our clients with high-quality, made-to-order custom manufactured parts in a variety of shapes, sizes, or materials.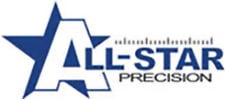 Contact This Manufacturer
Company Name: All Star Precision
Category: Machine Shops
Location: Rancho Cucamonga
Contact Person: Scott Jackson
Phone: 909-944-8373
Email: @
Website: http://www.allstarprecision.com