Alliance Rapid Manufacturing (ARM) is a supplier for all of your Rapid Prototyping & Manufacturing needs. With Many Years of Experience, our team can help take your concept from design to production. ARM specializes in manufacturing quality, close tolerance cast urethane parts that look and feel like production parts without the need of expensive hard tooling. Eliminating hard tooling will not only save you money, but can get your product to market faster than your competitors. ARM's proprietary process can also create complex parts that cannot be manufactured in other methods. We often take on projects that others turn down due to the complexity or time constraints. Form an alliance with ARM and let us show you what we can do for you.

Products and Services
Services we offer:
SLA
SLS
FDM
POLYJET
CNC Machining
Rapid Metal Castings
Injection Tooling & Molding
(domestic & overseas)


Services we specialize in:
Urethane & Silicone Castings
(Prototype & Low Volume Production)
Class A Presentation Models
Paint & Finish Services
Assembly
Manufacturing Processes
Machining, Molding, Prototyping, Assembly.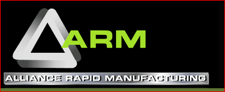 Contact This Manufacturer
Company Name: Alliance Rapid Manufacturing
Category: Plastics & Rubber Products
Location: Fountain Valley, CA
Contact Person: Kamran Harsini
Phone: 714-241-1044
Email: @
Website: http://www.alliancerapid.com
Are you a CA Manufacturer?
Join our Made in CA program and get your company featured for free!