APT Precision, founded in 2013 in Fountain Valley, California, specializes in the fabrication of waveguides components for the communication and satellite industry. We very quickly learned that our business vison of attention to detail, delivery to deadline and high quality control standards could make us more than competitive in CNC component machining. So with a goal of delivering product excellence and a high level of customers satisfaction, we began acquiring brand new CNC equipment and upgrades inspection tools for Quality Control Department.
We do the full commitments with on-time delivery and high quality service. It begins with the careful review of project specifications and the exhaustive inspection of first article components, and continues to the ongoing evaluation of finished product. Recognizing the importance of a certified quality system, APT Precision became registered to AS9100C and ISO9001:2008 on April 2016.
The industries we serve include: Commercial, defense industry, medical and surgery equipments, and microwave satellite components.


Products and Services
We offer CNC High Speed Milling with multiple axis capability. Our process programmers have deep experience in combining our resources to develop the most efficient machining methods.
The ability to machine complex shapes, undercuts and difficult angles with minimal setups reducing tooling cost and labor time, resulting in a better cost per part in addition to maintaining part conformity and repeatability.
We understand and utilize the diverse capabilities of our CNC machining centers for the best combination of precision and efficiency and strive to efficiently, reliably, and accurately accommodate many levels of precision and volume ‰ŰŇ producing complex parts with elaborate geometries.
We can manufacture single piece prototypes up to larger lot quantities with scheduled releases..
Manufacturing Processes
Engineering Center
Multi ‰ŰŇAxis programming capability
Three dimensional programming
Direct Numeric Controlled (DNC) system interface via hard link directly to all Computer Numeric Controlled (CNC)
Engineering and planning software includes CATIA V5, MasterCam, SolidWorks, all which are complemented with our use of Vericut and EVO.
All Data is stored 24/7 at a secure offsite location that is easily accessible / retrievable
Haas-Machine Equipment
Haas VF2 mill 2015 30‰Űx16‰Űx20‰Ű, 20 tool changer, 40 taper, 30hp
Haas VF2SS mill 2015 30‰Űx16‰Űx20‰Ű, 26 tool changer, 30hp, 40 taper
Mori Seki SL25 CNC Turn 2010
Mori Seiki CL15 CNC Turn 1999
Supermax Manual Vertical Mill Center 1996
Horizontal Bandsaw 2015
Fixturing, Tooling and Work Holding
Metrology Equipment
Mitutoyo Crystal 574 CMM
Mitutoyo Profilometer SJ210 SERIES 178
A varying range of dial bore gauges, ring gauges, thread gauges, thread plug gauges, micrometers, height gauges, pin gages, indicators
Calibrated Inspection Surfaces
Calibration meets ISO9001 & AS9100C standards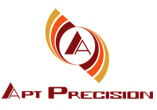 Contact This Manufacturer
Company Name: APT Precision
Category: Transportation Equipment
Location: Fountain Valley
Contact Person: Victoria Phan
Phone: 714-580-3386
Email: @
Website: http://www.aptprecisioninc.com