B&G Electronic Assembly, Inc. is a Woman Owned Small Business established in 1995, located in Southern California-Inland Empire, which is 50 miles east of Los Angeles. We are a full service Contract Manufacturer that specializes in low to high volume runs of Electronic Assemblies. We offer design and engineering services for your custom applications, such a turnkey, prototypes, cable configurations etc.

Products and Services
B&G Electronic manufacturers a range of Electronic assemblies, Custom Cable & Wire Harness Assemblies, Coil Cord Assemblies, Coax Assemblies, Flat Ribbon Assemblies, Flight Hardware, Electrical Jumper Leads, Labor Only Projects, Military/Aerospace Assemblies, Molded Electronic Assemblies, Multi-Conductor Assemblies, Panel Assemblies, PCB Assemblies and Power Distribution Boxes.
Manufacturing Processes
All our builds are custom per our customers requirement and specifications.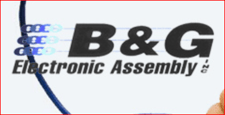 Contact This Manufacturer
Company Name: B & G Electronic Assembly
Category: Computer & Electronic Products
Location: Rancho Cucamonga
Contact Person: Robert Odell
Phone: 909-608-2077
Email: @
Website: http://www.bgelectronic.com