B.K. Signs Inc. have been providing Southern CA with quality interior and exterior sign products and services since 1992. Our installation crews have the experience and knowledge to handle any sign project, large or small. From concept to completion, we help our clients find the right signage to fit their image for the best value. We call this Signage Solutions. Our design staff has acquired talent and experience to bring your idea from concept to finished product. The engineering staff at B.K. Signs Inc. has the technical knowledge and background to translate your idea from concept to reality. Our survey and permit personnel have excellent relationships with the many social communities to handle your project quickly and efficiently. At B.K. Signs Inc. it is our goal to help clients meet their needs with an eye towards quality and value.

Products and Services
Pole / monument / neon / LED Message signs / Electrical signs / Channel letters Wall signs. We manufacture and install service and maintain all of your sign needs.
Manufacturing Processes
Crane service, sheet metal shop, router table. Manufacture and install signs.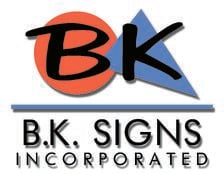 Contact This Manufacturer
Company Name: B.K. Signs, Inc
Category: Sign Products/Sign Mfg
Location: Azusa
Contact Person: Brian Kanner
Phone: 626- 334-5600
Email: @
Website: http://www.bksigns.com
Are you a CA Manufacturer?
Join our Made in CA program and get your company featured for free!