Organic growing methods are more difficult and produce less coffee and tea than conventional methods, which use pesticides and synthetic fertilizers.
The good news? These methods yield a superior product and ensure the ability of the farms to continue producing indefinitely. This allows the health of the farmer, the soil, and the groundwater to thrive, conspiring to produce great coffee beans!
That is why 100% of all the coffee and tea that we offer is certified organic. We are the only roaster in San Diego that has made that commitment.
Products and Services
100% organic, locally-roasted green coffee beans (regular, decaf sourced from South America), warehouse - wholesale 100% organic, green coffee beans, teas, coffee products - syrups, sweeteners, nitro cold brew teas, sale of new and refurbishie coffee equipment, retail - cups, t-shirts, fresh brewed coffee drinks.
Manufacturing Processes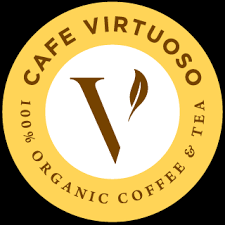 Contact This Manufacturer
Company Name: Cafe Virtuoso
Category: Beverage & Tobacco Products
Location: San Diego
Contact Person: Greg Luli
Phone: 619-997-5150
Email: @
Website: http://www.cafevirtuoso.com