California Faucets is an innovative, award-winning manufacturer of custom faucets, fittings, shower systems, luxury drains, accessories, and trim for the decorative plumbing market. Unlike much of the mass produced fare that floods the market today, each California Faucets fitting is custom made, featuring solid brass construction, state-of-the-art ceramic disc cartridges, and over 30 decorative finishes, including the world's largest selection of PVD finishes. In addition, California Faucets offers Custom Faucetry, the ability to mix & match any spout with any handle in any finish to enable customers to create virtually any conceivable design.

TWO OF OUR MOST POPULAR PRODUCTS:
Zerodrain‰ă˘
05-14-2014 - Press Release: California Faucets Introduces Zerodrain‰ă˘‰ŰÓThe World‰ŰŞs First ‰ŰĎPop-Down‰Ű Drain
Video: Overview
Video: Quick & Easy Installation
Kitchen Collection
10-14-2015 - Press Release: Presenting‰Ű_ The Kitchen Collection From California Faucets
Video: Introducing Kitchen Faucet Ensembles
Video: Introducing Kitchen Faucets. Italian Design. California Craftsmanship.
View videos highlighting our other products:
Tub Filler Fever | Dancing Faucets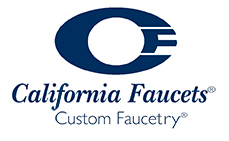 Contact This Manufacturer
Company Name: California Faucets
Category: Fabricated Metal Products
Location: Huntington Beach
Contact Person: Noah Taft
Phone: (800) 822-8855
Email: @
Website: http://www.californiafaucets.com