Casa Sanchez is a Mexican-style salsa and tortilla chip company based in San Francisco, California. Beginning in the 1920s as a tortilla manufacturer in the Mission District of San Francisco, then evolving into a salsa company in the 1960s. Casa Sanchez has grown to become one of the leaders in the Mexican-style snacks market.
The company logo is a drawing called ‰ŰĎJimmy the cornman‰Ű, inspired by Jimmy Sanchez, which depicts the landing of the first man on the moon. Its product slogan is ‰ŰĎSabor autentico y todo natural‰Ű which is Spanish for ‰ŰAuthentic flavor and all natural.‰Ű

Products and Services
We currently make and distribute over a dozen different salsas, five varieties of tortilla chips (two of them certified organic) and other traditional Mexican foods like gorditas and tamales.
Salsa
Guacamole
Tortilla Chips
Pupusas / Gorditas
Tamales
Manufacturing Processes
We use fresh, all-natural, healthy, and authentic ingrediants to create our products.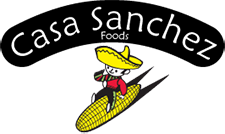 Contact This Manufacturer
Company Name: Casa Sanchez
Category: Food Manufacturing
Location: Hayward
Contact Person: Robert Sanchez
Phone: 650-697-1800
Email: @
Website: http://www.casasanchezfoods.com