CJT Enterprises Inc. manufactures a variety of innovative mounting devices used to mount peripheral devices to wheelchairs, standers, walkers, and other types of adaptive equipment.

Products and Services
Our Products:
Profiler - The Profiler is so much more than a steadfast, reliable mounting system; it is a powerful positioning tool capable of placing a device in the optimum position to meet the individual's specific needs. Built to last the Profiler maintains the optimum position through rigorous day-to- day use.
ProLite - The ProLite device mount is the perfect solution for mounting and positioning small lightweight communication devices, iPads, eReaders, and various other types of tablet technology.
Angular - The Profiler Angular with its arm and extra joint is a perfect solution to some of the most difficult mounting challenges. If space is limited on a wheelchair, the Angular can provide a solution by attaching to the tubing underneath the seat pan or behind the seat back of the chair. The Profiler Angular is also a good mounting solution for some strollers and Sit-to-Stand wheelchairs.
Freedom Table Stand - An innovative design combining effortless adjustment with worry free stability makes the Freedom Table Stand a first class tabletop stand. Using quick release knobs and CJT's new Flip Top Arm, the Freedom Table Stand is quick and easy to adjust to the position you need. The flat U-shape base made of durable steel, gives the Freedom Table Stand its sturdiness. The flat base also means precious tabletop space is not lost.
iPad Security Plate - Security and peace of mind is just what the new CJT iPad Security Plate provides. Your iPad easily slides into the specially designed aluminum plate, keeping your iPad both safe and accessible. Once secured, slide the locking top plate to the closed position. The top plate also provides the ability to attach a platform for attaching portable mini speakers.
Loc Line & PFL Base - For those who use Loc Line, CJT has designed a new low profile base plate that makes it easy to attach Loc Line to wheelchairs, standers and other adaptive equipment.
PFL Switch Mount - When "stay put" power is what you need the PFL Switch mount is the only choice. Designed for maximum adjustability with stability, the PFL combines the strength of a steel base with the lightweight durability of aircraft aluminum.
The PFL is universally adaptable and works with any type of switch or lightweight hand held device such as the iPod or Environmental Control Units.
Adjustable Rolling Floor Mount - The CJT Adjustable Rolling Floor Mount is a dependable companion to any device: strong enough to hold multiple devices yet designed to quickly change and adapt to meet the changing needs of the person using the CJT Floor Mount.
Turtle Talk - Using a communication device, tablet or laptop on the floor has never been as much fun or as safe. The Turtle Talk, an innovative and fun new product from CJT, safely supports your device while using it on the floor.
Our Services:
We are committed to helping our customers successfully meet their mounting challenges. Visit our Helping Hands page for information on mounting.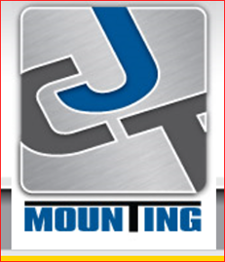 Contact This Manufacturer
Company Name: CJT Enterprises Inc.
Category: Computer & Electronic Products
Location: Fountain Valley, CA
Contact Person: Carrie McCormick
Phone: 714-751-6295
Email: @
Website: http://www.cjtmounting.com
Are you a CA Manufacturer?
Join our Made in CA program and get your company featured for free!