Commercial Kitchen Co. has been in business for over 40 years. We manufacture stainless steel products such as work tables, counter tops, shelves. We also do mechanical installations for venting systems, repairs, etc.

Products and Services
We specialize in manufacturing restaurant equipment.
Manufacturing Processes
We do custom sheet metal work.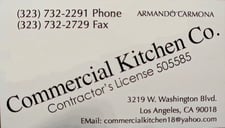 Contact This Manufacturer
Company Name: Commercial Kitchen Co.
Category: Fabricated Metal Products
Location: Los Angeles, CA
Contact Person: Armando Carmona
Phone: 323-732-2291
Email: @
Website: Check back soon
Are you a CA Manufacturer?
Join our Made in CA program and get your company featured for free!