Digital Orthotics manufactures medical-grade custom foot orthotics identical to those you'd get from a physician, podiatrist or chiropractor. Our products are durable, affordable, backed by our 100% customer satisfaction, and custom made to each customer's unique specifications. We have locations in Tustin, Riverside and San Diego, California; however, our services are available nationwide.


Products and Services
Option 1: 3D Imaging Scan
Make an appointment to come into one of our locations. Our patented state-of-the-art 3DO technology, captures a uniquely accurate 3-dimensional image of your foot. Data is collected by standing AND walking across a 3D dynamic media. Then our proprietary software analyses your data to determine exactly what type of biomechanical correction is needed. Our lab technicians use the data to fabricate foot orthotics specific to your needs. Production turn around time is 2 business days.

Option 2: Casting Box
Wherever you are located in the USA a casting box can be sent to you. Upon receipt of your order Direct Orthotics will send you our "casting kit" complete with instructions and pre-paid return postage. When you get it, make impressions of your feet. Drop it in the mail to the Direct Orthotics Lab in Riverside, California for processing. Our technicians will fabricate your custom foot orthotics within 5 business days.
Manufacturing Processes
3DO technology and fabrication.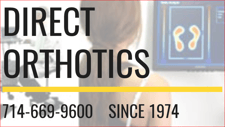 Contact This Manufacturer
Company Name: Digital Orthotics
Category: Miscellaneous
Location: Riverside, CA
Contact Person: Dr. Craig Lowe
Phone: 714-350-2793
Email: @
Website: http://www.directorthotics.com