Dudley's is a 50+ year old commercial bakery that produces 26 different breads and fruit bars. Our unique proven recipes and the fact that our products are baked locally by skilled artisans sets us apart in the market.
Products and Services
Dudley's is the most recognized name in bakeries in San Diego. We have won the UT Readers Poll every year for "Best Bakery. We are proud of our reputation as a quality first bakery.
Manufacturing Processes
Baking semi production line, with some automation. We produce between 1200 and 7000 loaves of bread a day, plus pastries and fruit bars.
"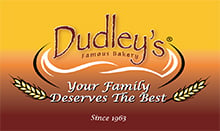 Contact This Manufacturer
Company Name: Dudley's Bakery, Inc.
Category: Food Manufacturing
Location: Santa Ysabel
Contact Person: Barry Brunye
Phone: (760) 765-0488
Email: @
Website: http://www.dudleysbakery.com
Are you a CA Manufacturer?
Join our Made in CA program and get your company featured for free!