French Custom Shutters, Inc. is a family owned corporation located in San Diego County California. Founded in 1977, we specialize in custom window and plantation style shutters for interior and exterior residential applications.

SanDiego-Shutters.com Owners Jim and Marty French were born and raised in San Diego. They learned their love of woodworking from their father, Al who was an industrial arts teacher for 30 years in the San Diego School District and would take them, at a young age, to the school wood shop on weekends and summer vacations. Al was always happy to lend a hand around the shop in his retirement. Many longtime customers still remember him.

Mission Statement: To develop a relationship with our San Diego County neighbors; knowing they demand the ‰ŰĎsmall town‰Ű treatment from the professionals they choose to work with. To manufacture custom wood shutters that exceed the expectations of our customers, made without compromise to the highest standards indicative of our reputation as an industry leader.

Motto: "Quality Furniture for Your Windows

Consumer Assurances and Professional Affiliations:
Contractors License number 780022
Liability and Property Insurance
Workers Compensation Insurance
Member - San Diego Better Business Bureau
BBB Ethics in Advertising
American Society of Interior Design Industry Partner
Air Pollution Control Dist. compliant
CA. hazmat compliant

Products and Services
Window Shutters, Plantation Shutters and Closet Doors
Plantation style, interior operable louver wood shutters

‰Ű˘2-1/2‰Ű, 3-1/2‰Ű, 4-1/2‰Ű, & 5-1/2‰Ű louver sizes, all shapes and finishes, any installation requirement necessary. (See Interior Gallery Page)

‰Ű˘Closet doors, fixed louvers, and raised panel wood interior closet doors (with mirror panels). Bi-folding track or bi-passing track assemblies or French door style. (See Closet Gallery Page)

‰Ű˘2-1/2" and 3-1/2" Aluminum shutter line, white and off white painted clear and champagne anodized and 3 wood tone colors available. (See Aluminum Shutter Gallery Page)

‰Ű˘Exterior fixed louvered or decorative wood panels.
1-1/2‰Ű thick Redwood, Douglas Fir or 1‰Ű thick solid Mahogany. (See Exterior Gallery Page)

Lumber
Basswood FAS grade is standard for all interior shutters. Also available:
Alder Knotty Alder Cherry, Red Oak White Oak Maple (hard) Mahogany


Poly/Synthetic Shutters with or with out aluminum reinforcing: 2-1/2‰Ű. 3-1/2‰Ű or 4-1/2‰Ű louver sizes. Three colors are standard with custom paint colors available.
Manufacturing Processes
Carpentry Wood Working.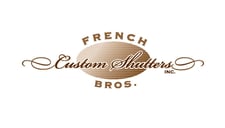 Contact This Manufacturer
Company Name: French Custom Shutters
Category: Wood Products
Location: Spring Valley
Contact Person: Marty French
Phone: 619-698-3111
Email: @
Website: http://www.frenchshutters.com