Since 1984 we have been challenged in various forms of coating applications. We are uniquely qualified to assist you in your coating needs. Whether high solids liquid, waterborne liquid, powder coating, or silk-screening we are ready to help. In today's demanding business climate we at Hytech know how important, on time deliveries are to our customers and we strive to meet their demands without compromising quality. At Hytech we specialize in prime and topcoat applications of all metals and plastics in conjunction with silkscreening or just silkscreening on plating. We offer textures in clear or in any manner desired.

Products and Services
Our specialty services include aluminum etching and aqueous degreasing assuring the highest degree of preparation of ferrous and non-ferrous metals for paint or powder application. For ferrous metals we provide iron phosphate, which prepares the substrate for paint or powder offering the highest degree of adhesion. Hytech's state of the art silkscreen department can provide your company with precision silk-screening, whether you provide camera-ready artwork or we prepare your art from blue print or disk. Our specialty over the years have been screening of electronic enclosures and chassis, front and rear panels dials and nameplates. All done in conjunction with paint or powder coating or silk-screening on plated surfaces.
Manufacturing Processes
Electroplating, Plating, Polishing, Anodizing, and Coloring.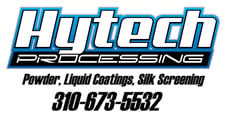 Contact This Manufacturer
Company Name: Hytech Processing
Category: Metal Coating & Electroplating
Location: Inglewood, CA
Contact Person: Michael Graves
Phone: 310-673-5532
Email: @
Website: http://www.hytechprocessing.com