For over two generations, I M David has been known and respected in the furniture industry for producing superior quality, fine crafted residential and commercial furnishings. We do it all ‰ŰŇ from design to lumber milling to final upholstery work ‰ŰŇ in house, at our complete factory complex in Gardena, CA. We maintain complete control of projects to ensure a successful and satisfying completion. We have a team of accomplished designers ready to serve your needs, and we are equally at ease working with independent designers. Our portfolio of past commercial projects includes numerous restaurants, country clubs, offices, and Billiard and Game Rooms.
Products and Services
Custom Woodworking.
Manufacturing Processes
Fabrication.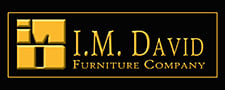 Contact This Manufacturer
Company Name: I M David Furniture Company
Category: Furniture & Related Products
Location: Gardena
Contact Person: David Ginsburg
Phone: (310) 243-1260
Email: @
Website: http://www.imdavid.com/index.php
Are you a CA Manufacturer?
Join our Made in CA program and get your company featured for free!