Kinetic Die Casting Company makes aluminum die casting parts for manufacturing companies. Since 1994, we have made parts for many manufacturing industries such as Aerospace, Military, Commercial, Lighting , Automotive and Consumer Products. The Parts We Make Today, We Ship Today. Our niche is lower quantity (less than 500 parts) production orders delivered quickly. We ship parts typically in less than four weeks. Some of our customers send us blanket purchase orders of several thousands of parts to be delivered over a twelve week period.
Quick Facts About Kinetic Die Casting Company:
SIC 3363 Aluminum Die Casting Company

NAICS 331512 Aluminum Die Casting Company

SBA Small Disadvantaged Die Casting Business

Minority Owned Die Casting Business (Native American)

Veteran Owned Die Casting Business

AS/ISO Compliant

ITAR Compliant Die Casting Company

CAGE/NCAGE: 4ZQV3
Products and Services
Commercial, Military and Aerospace die castings in aluminum and zinc.
Fast delivery of aluminum die casting parts. Low or High Quantity production runs. On time delivery.
Manufacturing Processes
Aluminum Die Casting Parts. Zinc Die Casting Parts. Die Casting Tooling. Die Casting Molds. Machining of die casting parts.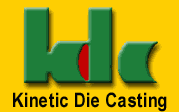 Contact This Manufacturer
Company Name: Kinetic Die Casting Company,Inc.
Category: Primary Metal
Location: North Hollywood
Contact Person: Bob Thomas
Phone: 818-982-9200
Email: @
Website: http://www.kineticdiecasting.com