KME CNC has developed a state-of-the-art 5 axis system that allow shops to upgrade existing 3rd and 4th axis machining centers to 5 axis capability. 5-Axis trunnions give 3+2 capability for VMCs while KME's wireless tombstones give 4+1 capability on existing HMCs. No upgrades necessary.

Products and Services
Wireless 5-Axis Rotary Tombstone, 5-Axis Rotary Trunnions, Rotary Tables.
Manufacturing Processes
Machining.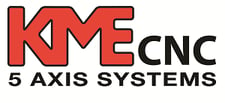 Contact This Manufacturer
Company Name: KME CNC
Category: Machine Shops
Location: Irvine, CA
Contact Person: Jerome Mel
Phone: 714-345-5816
Email: @
Website: http://www.kmecnc.com
Are you a CA Manufacturer?
Join our Made in CA program and get your company featured for free!