Microwave Dynamics (MD) is a world leader in high-precision microwave and millimeter wave components. Incorporated in 1993, MD designs and manufactures free running and phase-locked oscillators, amplifiers, frequency converters, and frequency multipliers for the industrial, aerospace, and military / defense sectors.

Products and Services
With applications on land, sea, air and space, MD products are designed to perform under extreme environmental conditions, such as intense shock vibration and high temperature variance. Designs are geared to maximize stability and minimize noise.
Microwave Dynamics is Small Business Certified, AS9100:2009 Certified and on the Approved Supplier List (ASL) of several major aerospace companies and system integration firms throughout the world. Our products are 100% U.S. made and subject to rigorous testing, quality control protocols, and documentation procedures. In addition to excellent customer service and rapid turnaround R&D for customized sub-assemblies, we also offer 48 hour delivery on standard catalog products, making Microwave Dynamics the preferred choice for time-critical projects.
Manufacturing Processes
Reliability and precision are our primary concerns at Microwave Dynamics. We are ISO 9001:2008 Certified and we were awarded AS9100:2009 Aerospace Standard Certification in March 2013 by DNV Auditors.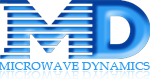 Contact This Manufacturer
Company Name: Microwave Dynamics
Category: Computer & Electronic Products
Location: Irvine, CA
Contact Person: Hoda Ghayem
Phone: 949-679-7788
Email: @
Website: http://microwave-dynamics.com