New Nativeĺ¨ is a business dedicated to healthy families, social responsibility, and a clean environment. Founded in 1992 by Nancy Main, and directed by daughter Roseann Scrivens today, New Nativeĺ¨ is the industry standard in premium organic baby carriers. Our products are manufactured in California, employing moms and therefore enabling families to spend more time together. New Nativeĺ¨ seeks to promote contact carrying by providing the most comfortable baby carrier on the market today.

Products and Services
Our baby carrier is a celebrity favorite of A-listers; Russell Crowe, Brad Pitt, Angelina Jolie, Brooke Shields, Brad Paisley, Sharon Stone, Jack White, and Kate Hudson among others, and worn by Cindy Crawford, on Good Morning America! New Nativeĺ¨ was the 2008 National Parenting Publications Awards (NAPPA) Honors award winner.
Manufacturing Processes
We cut, sew, and package our baby products in California.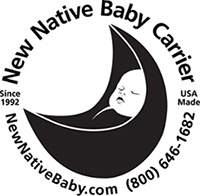 Contact This Manufacturer
Company Name: New Native Inc.
Category: Miscellaneous
Location: San Pedro
Contact Person: Roseann Scrivens
Phone: 800-646-1682
Email: @
Website: https://newnativebaby.com