Pacific Alloy is a 46, 000-square-foot, state-of-the-art foundry using the most advanced technology. We cast abrasion-, corrosion- and heat-resistant iron and steel castings, as well as gray and ductile irons used for common industrial castings.
Products and Services
Throughout our history, we have been recognized for molding top quality castings. Pacific Alloy provides a single source for casting design assistance, pattern construction, casting production and finish machining. Our flexible manufacturing facilities provide the ability to produce short- or long-run requirements and castings ranging in size from ounces to 12, 000 pounds.
Manufacturing Processes
Ferrous Alloy Sand Casting, Machining.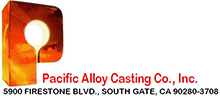 Contact This Manufacturer
Company Name: Pacific Alloy Casting Co.,Inc.
Category: Primary Metal
Location: South Gate, CA
Contact Person: Matthew Canedo
Phone: (562) 928-1387
Email: @
Website: www.pacificalloy.com