PNM Company is a CNC job shop with over 26 CNC machines. Established in 1976, we run 24 hours per day 7 days a week with 49 employees plus temp labor. We offer a Kanban stocking program for our customers. We serve many industries from low volume to high volume production jobs.

Products and Services
We are very strong in the medical manufacturing field. We have been awarded "Top Ten Job Shops" by American Machinist magazine.
Manufacturing Processes
CNC machining ranging from swiss lathes, mill/turn turning centers, 6 horizontal cells with 66 400mm palets, 12 vertical mills and a fully automated CNC mill with Fanuc robotics.

PNC'S Shop Floor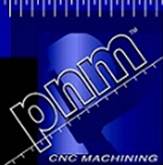 Contact This Manufacturer
Company Name: PNM Company
Category: Fabricated Metal Products
Location: Fresno, CA
Contact Person: Mario Persicone
Phone: 559-291-1986
Email: @
Website: http://www.pnmcnc.com