Rochie's Inc. was founded in Los Angeles County in 1989 and is 100% Woman Owned.

Products and Services
Products offered:
Career, Corporate, and Collegiate Apparel
Safety and Hi-Visibility Uniforms
Promotional and Incentives
Services offered:
New Brand Consultation
Design/Production of Garments
Variety of Embellishment Capabilities
Online Marketing Solutions (i.e. Branded Company Stores)
Past and current clients include:
Private and Public sector (Los Angeles World Airport, California State University, Northridge, Delta Delta Delta Sorority to name a few)
Manufacturing Processes
Design/innovate new products to help promote the client's brand.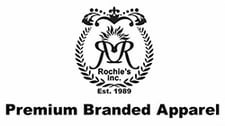 Contact This Manufacturer
Company Name: Rochie's Inc.
Category: Apparel
Location: Northridge
Contact Person: Roya Saberzadeh
Phone: 818-775-1622
Email: @
Website: https://rochiesinc.com
Are you a CA Manufacturer?
Join our Made in CA program and get your company featured for free!