At Roo-hide we will always be committed to quality of product, honesty, sincerity, integrity and friends and family. I grew up on two different sheep and cattle stations in central New South Wales, Australia; the stations were mostly pastoral country with some mixed farming, managed by my parents. All of the ranch work at the station was done on horseback or horse and buggy, so I got to handle plenty of "bush" horses. Even today, my experiences at the stations are the core of who I am and how I live my life.
After arriving in the US, while attending California Farrier College under Clois Earls, I injured my back. At that time, Earls had a saddle maker working for him doing repairs and building saddles for the numerous feedlots in the Imperial Valley. Saddle making had been in Ralph Alvarez's family for generations. While my back was healing, I began building saddles with him — an experience that inspired me to start Roo-hide Saddlery.
Over the next few years I got to spend time with horse trainers, which allowed me to get to know the feel of what a saddle needs to be. Having a first-hand understanding of what a rider expects from their saddle, I was able to handcraft saddles to meet those needs. My wife Yvonne and I began to slowly grew our company, from a cardtable and folding chair in the back of my truck, to where it is today. Thanks to dedication and hard work, with the support, loyalty and friendship from our customers, Roo-hide Saddlery now offers an array of handmade high-end saddles.
Products and Services
Handmade High End Saddles for Cutting Horses.
Manufacturing Processes
Hand made development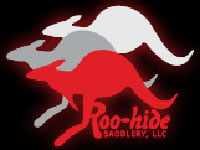 Contact This Manufacturer
Company Name: Roo-hide Saddlery
Category: Leather & Allied Products
Location: El Centro
Contact Person: John Burgun
Phone: (760) 353-4112
Email: @
Website: http://www.roohide.net