Sarris Interiors was established 1957. We manufacture residential & commercial awning enclosures, as well as boat canvases and interiors. We design and make each item to meet the needs of our customers. We use only high quality materials and provide a quick turnaround. Our 11 employees have 120 years of combined experience and knowledge.
Products and Services
Awnings, retractable awnings, sail shades, tents, patio enclosures, roller shades/curtains, graphics, Bimini tops, dodgers, cushions, boat enclosures, carpet, headliners, boat covers.
Manufacturing Processes
Sewing, heat sealing, metal welding, metal fabrication, RF welding.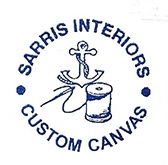 Contact This Manufacturer
Company Name: Sarris Interiors
Category: Textiles
Location: Paramount, CA
Contact Person: Chris Sarris
Phone: 562-531-8612
Email: @
Website: http://www.sarrisinteriors.com