Senga Engineering, founded in 1979, is a privately held company located in Santa Ana, California. Originally the company was established as a machine shop specializing in the production of metal and plastic components for the connector industry. Today, Senga Engineering is a world-class provider of precision-machined components to a broad range of companies and industries. Over the years, Senga has worked with many of the world's major manufacturers and systems integrators as a second and third tier supplier supporting requirements from Aerospace to Automotive.
Products and Services
CNC 5-Axis Milling; CNC Multi-Axis Turning; Horizontal Milling; Broaching and Ramping; Solidworks, Mastercam, ESPIRIT, and Vericut Software; Brown & Sharpe CMM; Smartscope Optical Inspection; ERP System; Machining; Short Run or Production Capability.
Contracted Value Added Services: Plating, Anodizing, Passivation, Heat Treating.
ISO 9001: 2008 and AS9100C Registered ITAR Registered
Manufacturing Processes
Precision CNC Machining for the following Industries: Medical, Aerospace, Energy, Automotive, Mil/Aero Connectors.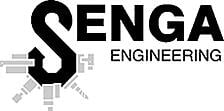 Contact This Manufacturer
Company Name: Senga Engineering, Inc.
Category: Machine Shops
Location: Santa Ana, CA
Contact Person: Mike Irion
Phone: (714) 549-8011
Email: @
Website: https://www.senga-eng.com/