Established in the 1970s, Sorma USA quickly became one of the world's largest suppliers of Turn Key packaging and palletizing lines for the fresh produce industries. Because of its European roots, where high labor costs forced the industry to seek out automated technologies, Sorma was driven to be a key dynamic leader in the fruit and vegetable scene. Some of Sorma's most renowned machines were designed in this era, including box palletizers, bin dumpers, and check weighers.
Products and Services
In the 1980s, Sorma realized the key to industry innovation was in automated packaging, which led to their first line of weighing and packaging machines.
Manufacturing Processes
The collective 40 years has given Sorma USA a strong presence in the North American market with a base of customers all over the continent! From carrots to onions, citrus to avocados and more, Sorma USA has the machinery and materials your business needs. Our warehouse is not only full of experienced and knowledgeable staff, but a Production Team and printing press that runs daily to produce high quality film for your packaging needs. Our equipment is serviced by field engineers located in production areas all over the nation. Sorma USA not only strives to become the leading supplier of machinery and material for the produce industry, but also aims to be innovative with cutting edge technology while doing so.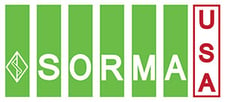 Contact This Manufacturer
Company Name: Sorma USA LLC
Category: Paper, Coated and Treated
Location: Visalia
Contact Person: Tracy Hart
Phone: 559.651.1269
Email: @
Website: https://sormausa.com/