Soul'y Raw Pet Food was established in 2009 as a family operated business passionately dedicated to making the highest quality pet food and treats for dogs & cats. Our ingredients are locally purchased, fresh, human grade, hormone and antibiotic free, non-irradiated, USDA inspected and approved raw meat, bone, wild caught ocean fish and organic vegetables & fruit. All of our products are handmade daily in our USDA certified commercial kitchen open to the public in sunny San Marcos, California.
Products and Services
Some of the products we offer include...
A wide variety of fresh raw food blends including Original Chicken, Original Beef, Organic Turkey, Whole Duck, and a unique blend of Beef and Green tripe that is a house favorite among both dogs and cats!
Artisan crafted air-dried single protein treats in USDA Beef, Grade A Free Range Turkey Breast, and boneless, skinless chicken breast.
Our one-of-a-kind whole air-dried green lipped mussels, which are the most natural, effective source of marine based Omegas. Green Lipped Mussels are a 100% natural source of glucosamine, chondroitin, glycogens and Omega-3 fatty acids with proven ability to nutritionally support long-term joint health.
Manufacturing Processes
Commercial meat grinders and mixers, meat slicers, commercial fans to safely air-dry all of our whole protein meat treats.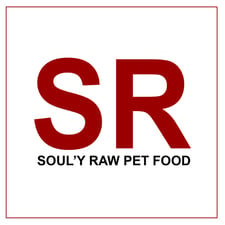 Contact This Manufacturer
Company Name: Soul'y Raw Pet Food
Category: Food Manufacturing
Location: San Marcos, CA
Contact Person: Lisa Ayotte
Phone: 760-736-4457
Email: @
Website: http://www.soulyraw.com