Steven Label has been in the label making business for over 60 years. We have over 150 employees and we provide durable and highly engineered labels for customers.

Products and Services
Steven Label is a manufacturer of labels, panel overlays, membrane switches and sensors. Key markets include the medical, pharma, industrial, pool/spa, aerospace, automotive, health and beauty, wine food and beverage.
Manufacturing Processes
Screen, flexographic and digital printing. Web-based order tracking and proofing capabilities.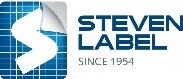 Contact This Manufacturer
Company Name: Steven Label
Category: Printing
Location: Santa Fe Springs, CA
Contact Person: Don Chelius
Phone: 562-236-4760
Website: www.stevenlabel.com
Watch our Video About Steven Label