Family-owned and operated since 1974, Tee-N-Jay is known for quality and professionalism in creating unparalleled industrial applications. We offer a full line of sheet metal fabrication services, and we carry them out with precision and care. We work closely with you, one-on-one, to make sure your job is done exactly the way you want it. This personal touch lets us fabricate parts that are truly unique to you.
Products and Services
Precision sheet metal engineering, design, fabrication, and assembly.
Industries Served:
Automotive, Aviation, Communications, Construction, Elevators, Entertainment, Food Service, Home & Business Security-Entry systems, Industrial Processing, Media, Medical, Military, Refrigeration, U.S. Forestry Service, Veterinary
Manufacturing Processes
Sheet Metal Fabrication:
Shear, Turret Punch Presses, Deburring, Forming/Power Brakes, Drilling, Countersinking, Welding, Grinding, Hardware Insertion, Spotwelding, Studwelding
Services:
Anodizing, Chem Film, Zinc Plate, Electro-Polishing, Laser Cutting, Paint, Polishing, Powder Coat, Silk Screen, Water Jet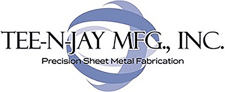 Contact This Manufacturer
Company Name: Tee-N-Jay Manufacturing, Inc.
Category: Sheet Metal Work
Location: Sun Valley
Contact Person: Jessica Berns
Phone: 818-504-2961
Email: @
Website: https://tee-n-jay.com/