Toleeto Fasteners International has been in the cable management business since 1985. We are the original manufacturer of Cord-Lox, Rack-ups and the Coil'n'Carry handle strap.

We make a complete line of cable wraps in a wide variety of sizes, styles and colors for use in the professional sound & lighting, motion picture, telecommunications, photography, medical and related industries, as well as for musical instrument cables, extension cords, and hoses of all types. We have a large inventory of hook & loop, as well as Velcro One-Wrap and nylon and polypropylene webbing.

We also are able to fabricate any type of strap you need, using ultra-sonic welding, die-cutting and industrial sewing along with our huge selection of buckles, grommets, snap-hooks and just about any other type of plastic and metal hardware you can imagine. We can imprint your logo on any strap with our three pad-printers.

Products and Services
The medical industry has become a rapidly growing part of our business. We make straps used for orthopedics, ambulance gurneys, hospital beds, even fetal monitor straps. We have access to a large variety of materials, including stretchable Velcroĺ¨, foam laminates, as well as a multitude of molded plastic parts. We also serve Audio/Visual, Professional sound & lighting, sports, computer industries, as well as contract manufacturing, industrial sewing and others.
Manufacturing Processes
Using our clicking press and die cutting machines, we can punch out complicated shapes from hook & loop, padded foam and other materials. Several of our customers send us their custom molded or fabricated parts and we add the straps. If you are involved in this fast growing industry and need quality custom straps, please give us a call and let us know what we can do for you.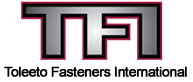 Contact This Manufacturer
Company Name: Toleeto Fasteners International
Category: Miscellaneous
Location: Chula Vista
Contact Person: David Deavenport
Phone: 619-662-1355
Email: @
Website: http://www.cord-lox.com