Increasing margins and the ability to scale business, is something Z-Tronix thinks about everyday. With consigned inventory programs that help our customers focus on "Product Development and Production", this enables you to leave the sourcing and handling of raw material to Z-Tronix.
Manufacturing Your Wire or Cable Harness:
•Sub-Assemblies
•Final Assemblies
•Individual Components
•High-Volume/Lean-production adoption
•Fully automated cut, strip and crimp technology.
•Best-in-Class ERP system, reducing customer cost & lead-time.
•Continuously improving the effectiveness and efficiency of the QMS.
•A committed and team oriented employee structure that strives for Zero Defects.

The Logical Solution Z-Tronix Inc is dedicated to the following industries:
•Aerospace
•Appliance (white goods)
•Automotive
•Entertainment
•Factory automation
•Industrial (traffic control) lighting
•Marine
•Medical
•Pool & spa
•Telecom

Never run out -- providing tools to increase your return is the standard.

•100% cloud based inventory management and visibility
•Inventory Consignment Program
•JIT System •Min/Max Replenishment Program
•KANBAN

Peace of Mind
The following accreditation and certifications are maintained to manufacture your quality harnesses and assemblies: .ul certification, iso9001 certified, ROHS, CSA.

Products and Services
Wire harness assembly:
•Easy Design Upload
•Dedicated Support
•Volume Production
•Quick Turnaround
•Engineering Services

Power Cord & Cord Set Manufacturing:
•North American
•International
•Medical Grade
•Custom Marking
•Coiling

Distribution:
•Wire
•Cable
•Electrical Components
•Sleeving
•Wire and Cable Management
•High speed wire processing services
Value-Added Services:
•Cut & Mark
•Stripping
•Dyeing
•Twisting
•VMI.
Manufacturing Processes
Assemble Electronic Connectors.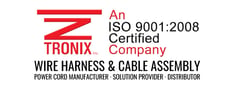 Contact This Manufacturer
Company Name: Z-Tronix
Category: Computer & Electronic Products
Location: Paramount, CA
Contact Person: Kamran Jahangard
Phone: 562-808-0800
Email: @
Website: http://www.z-tronix.com