Written by: John Anderson, Director
Sales and marketing…does the mere mention of this aspect of your business turn your stomach or make you want to run the other way?
While you know that sales and marketing are keys to establishing and growing your enterprise, the fact is that this is one of the most uncomfortable and overlooked aspects for many owners and managers in the manufacturing industry. Without huge marketing budgets or the money to hire top-notch sales people, many small manufacturers are forced to relegate this responsibility to the owner or to someone who may combine their sales and marketing job with another responsibility.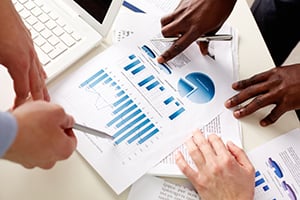 Sales and marketing efforts traditionally suffer when this responsibility is combined with production, product development or management duties, particularly when most owners and managers simply are not comfortable with this area of the operation. Lack of focus on sales and marketing will lead to missed business opportunities and result in stagnant or dropping business levels.
Since sales and marketing are both keys to business growth, how do you inexpensively and effectively improve your sales and marketing efforts in order to achieve exponential business growth?
Here are four suggestions to improve your sales and marketing efforts without a huge investment of time or money:
1. Know Your Value Proposition – How many businesspeople do you know that can tell you what their product does or offers, but can't tell you what sets them above the competition? Your value proposition outlines your competitive advantage and what you offer that customers value and will pay for. To come up with your value proposition, ask your customers and employees what they believe your product offers. Then flush out the answers to come up with your value proposition. It is vital that you establish this and purposefully state it in all of your marketing materials, sales presentations and sales calls.
2. Know Your Most Valuable Customers (MVC's) – It is often said that the 80/20 rule applies to business. In other words, 80% of a company's profit or sales typically results from 20% of its customers. If you could identify and profile your top customers, you can then search for other companies that fit the profile. The process of doing this is called an MVC analysis.
To start, you simply identify what quantitative factors make a customer valuable and document the findings for your entire customer base.

Here are some of the factors you can evaluate:
Profitability (expressed in terms of profit margin or dollars)

Quality Expectations (rated on a numerical scale)

Sales

Size of Company

Proximity to Your Location

Industry
Once you collect this data, the top customers (often in terms of profitability or sales) will identify themselves. Once you have found the 20% that lead to 80% of sales or profits, you then create a profile for each of the top customers and then use a database like Hoovers to find other companies that fit the profile of your most valuable accounts.
3. Develop Strong Presentation Skills – Good presentation skills are vital to a strong sales and marketing process. A good presentation, whether formal or informal, can make or break a sale.
Here are some tips from Industry Week's article, "Four Memorable Enhancements for Your Presentation" by Vladimir Gendelman.
Distribute custom handouts. A high quality brochure with your contact information clearly outlined may be the only thing that customers take from your presentation. Make sure it speaks volumes about your product and value proposition.
Use (but don't overuse) Powerpoint. There is nothing more distracting as when a presenter reads slides during a presentation or when animation is overused. You can lose a lot of credibility as the result of a poorly planned or executed presentation.
Incorporate video. Yes, overdone animation is bad, but professional quality video showing your production process and operations can enhance your presentation and draw in your audience.
Bring product samples, if possible. If you make jet engines, maybe this suggestion isn't for you. But, if you can bring models or actual


product samples that the audience can feel and touch, this can be extremely beneficial.
4. Get An Outsider's Perspective on Your Sales and Marketing Efforts – While you may not be comfortable with sales and marketing techniques, this is a good chance that you have developed some good practices or documents along the way. In order to put your efforts and budget where they will do the most benefit, it is helpful to get an assessment from an outside expert to identify your strengths and weaknesses. When you get the results, you can put your money and time into improving the areas that will provide the greatest opportunities for business growth. Find out more about CMTC's Sales and Marketing evaluation and other Business Growth services by clicking here.
You are really great at making your product, and that is why you are in business. However, to grow your business, you also have to market and sell what you make. Use the tips above to quickly and inexpensively improve your sales and marketing efforts to achieve exponential business growth.