Written by: John Anderson, Director
"We have no trouble finding workers. We have trouble finding

skilled

workers."
"The local high schools have dropped vocational education programs due to reduced funding. This was once a path for kids to get into manufacturing. "
"We have to hire 10 workers to get one that will stay and contribute to our company."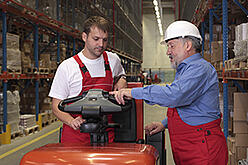 These are actual manufacturing leaders' statements. They are indicative of a sad trend in industry. High school kids are not driven toward manufacturing as a career. In addition, well trained, skilled workers are employed and aging. It is the "perfect storm". New workers are not attracted to manufacturing as a career and the pool of existing skilled workers is shrinking due to attrition.
A 2011 report entitled "Can We Compete? Reducing the Skills Gap and Creating a Skilled Workforce through Linked Learning" by America's Edge outlined the following statistics:
According to 2010 National Skills Coalition study, in 2009, during the

recession, only 38% of the workers were trained for middle-skill jobs, but 47% of the jobs available required this skill level.

2.2 million new and replacement middle-skill jobs were expected to open up from 2008 to 2018.

In 2010, California was 45th in the nation when ranked on the basis of science and engineering degrees awarded per 1000 workers. 40% fewer degrees were awarded by California schools than the national average.

By 2018, three out of every five California jobs will require some education beyond high school.
The gap between the availability of a skilled workforce and the number of jobs available for them has been referred to as the "skills gap". As the data above indicates, this gap will continue to widen. As companies are not able to fill positions, they will need to find other alternatives or close their doors. Outsourcing jobs to other countries where the skilled workforce is growing, relocating the company, or shuttering it altogether may be the only options. Note that none of these scenarios reflect growth for American manufacturing.
The statements at the beginning of this post clearly state some of the problems faced by today's manufacturers are lack of vocational programs, difficulty hiring and keeping skilled workers. If there is a problem, there must be a solution or solutions. But, what is the solution? And, what can you, as a manufacturing leader, do to help? What role can you play in the effort to address the skills gap?
Manufacturers can take avery active role in addressing the skills gap in the United States. And, doing so is important to the future of American manufacturing. According to the 2013 Next Generation Manufacturing Study conducted by The MPI Group, one of the key factors to reaching world-class manufacturing status is employing a talented workforce.
Following are some small steps that you can take that will make a big difference in your future talent development efforts:
◆ Exposure – Manufacturing has gotten a bad reputation as dirty, hard work with low pay and greater risk of injuries than other professions. October 4th, 2013 was Manufacturing Day in America and over 800 companies nationwide (60 in California) opened their doors to high school students, paren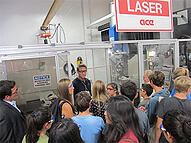 ts, and educatorsfor tours and presentations. The goal was to show this audience of future employees and the people who influence their career decisions the "real" manufacturing world. This effort needs to be continued by businesses in order to raise the perception of manufacturing careers in the eyes of the next generation of workers. Regional or local events can be held with a group of fellow manufacturers. Your company can set up a program with the local high school or vocational school to offer tours at your facility as part of the curriculum.
◆ Education - Many manufacturers have a training program, but its goal is typically to enhance the skills of the current workforce. A strong hiring and development program is key to your company's success. What if your training program included an apprenticeship for high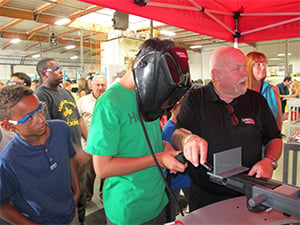 school students to allow them to work for you for part of the day and take classes for the balance of their school time? Or, if your organization offered a summer internship program for students between their junior and senior year to educate them on manufacturing techniques? You would not only be gaining extra help in the short term, you may be training a future supervisor or technician! It is truly an investment in your business's future! CMTC can help connect your company to qualified partners that can help you develop a program toaddress your future needs and provide you the greatest return on your investment.
◆ Collaboration - The effort to find, train, and employ more skilled workers is not best done in a vacuum. It is time to gather best practices and learn from other's mistakes and successes. Trade associations and manufacturing networks are great places to start the conversation. Conferences and events also provide the opportunity to network with other companies that likely face the same challenges you do. CMTC provides a listing of eventsfor manufacturers on our website. Actively participate in meetings and conferences and start the conversation!
While the skills gap threatens American manufacturing, this situation can be seen as an opportunity to show the next generation how great a manufacturing career can be. By exposing young people to manufacturing; creating a talent development program to attract and retain skilled workers; and collaborating with other manufacturers to develop and employ best practices, the discussion can turn from "skills gaps" to that of a highly innovative and talented 21st century workforce!